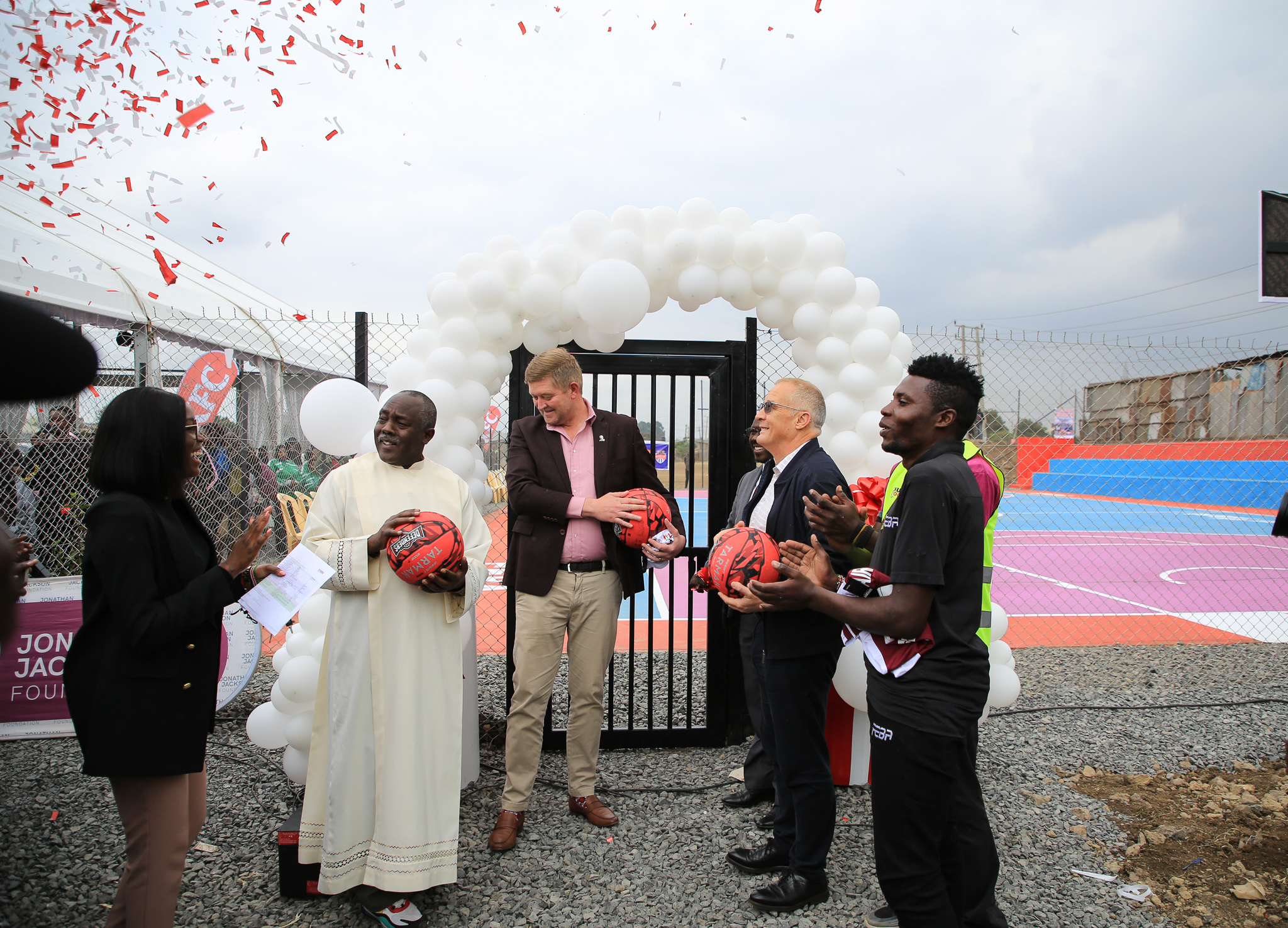 KFC & JJF Deliver Fiba Standard Bball Court
KFC Kuku Foods in partnership with Jonathan Jackson Foundation (JJF) have, under the Bakee Mtaani initiative, unveiled and handed over a full-size FIBA standard basketball court at Humama public grounds in Kayole.
The launch and handover to Divine World Parish (DIWOPA) who provided the land, for onward availability to the community, comes exactly two months after KFC Kuku Foods who funded the same in full, and Jonathan Jackson Foundation (JJF) who oversaw the construction, announced their partnership during a groundbreaking ceremony at the same venue.
In attendance were, among others, the Director General of Sports Kenya Pius Metto as the chief guest on behalf of Cabinet Secretary for Sports, Culture and Heritage Dr. Amb. Amina Mohammed, KFC Kuku Foods CEO Jacques Theunissen, JJF Chair Jonathan Jackson, Acting Director Research and Innovation Kenya Academy of Sports John Okwemba, as well as community leaders, youth, the church, Nairobi Basketball Association representatives, Nairobi Metropolitan services representatives, Umama Grounds representatives, KFC and JJF staff among other stakeholders.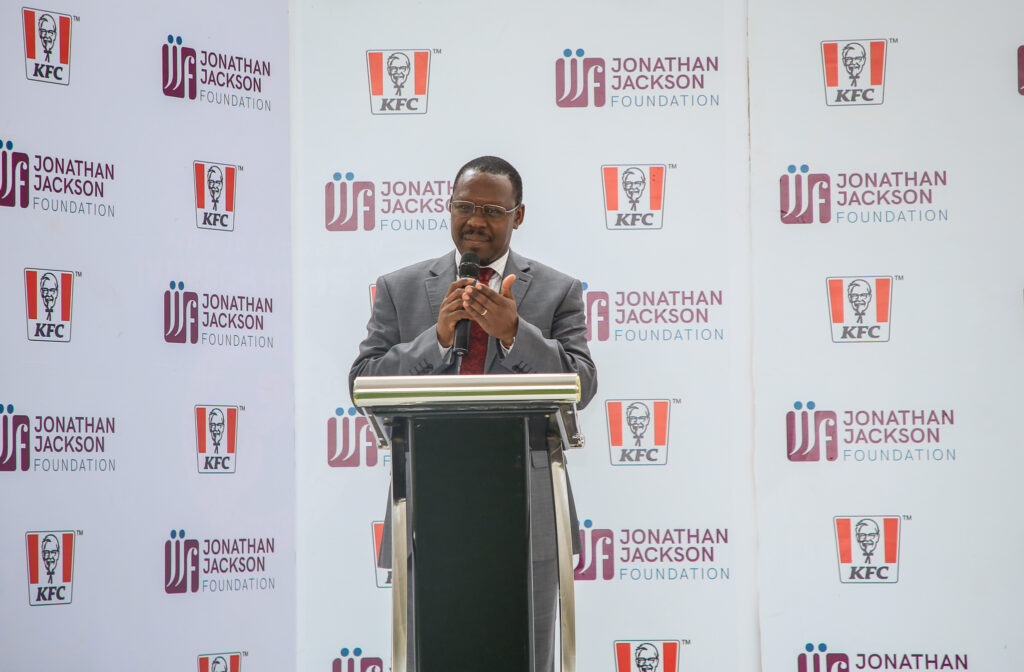 "This additional facility will go a long way to address the shortage of sports facilities and provide and enabling environment for nurturing talent. It is going to be tremendous source of joy and energy to the local communities and groups who have yearned for such facilities for long,"

"This launch is a progressive initiative to ensure young, talented and disadvantaged sportsmen and women are given an opportunity to discover, develop and showcase their talents,"

"As a Ministry, we acknowledge with tremendous gratitude the support and commitment exhibited by sponsors, community leaders, partners and other stakeholders,"

"The Ministry appreciates Jonathan Jackson Foundation, KFC and Devine Word Parish, Kayole for this exemplary partnership,"

said Director General of Sports Kenya Pius Metto
KFC employs over 1000 youths who also form a core part of our customer base at KFC. We are therefore very aligned with JJF's mission of addressing the burning issue of youth unemployment and social development. This facility will provide a meeting point for interaction for not only our customers but also with other youth which fully aligns with our objectives as an organization said Jacques Theunissen, Principal Operator at Kuku Foods at the official launch of the court
JJF Founder and Chairman Mr Jonathan Jackson while speaking at the launch remarked that;

"I'd like to thank KFC for all their work, all they are putting together and for the sponsorship put together for this fourth court that we have now in Nairobi. I particularly like to thank the church for donating the land for the court and for use by the community. We really appreciate that,"

"My first wish is for the youth to come to the basketball court to have fun, to get off the street and enjoy some sport in a space that is safe and protected in a place to enjoy the game together,"

"My wish and aim is to build 25 basketball courts in Nairobi at the moment. This is the fourth one and we are going to do another five shortly. As we build them, we are going to start tournaments between courts. You now have your first one and we are going to build four more in this community. Start practising and getting ready because Kawangware is already ahead of you as they have three courts and are already playing. We will start little tournaments and competitions, community level tournaments and not federation level tournaments whom I believe will organise their own. This will give you the opportunity to showcase your talents,"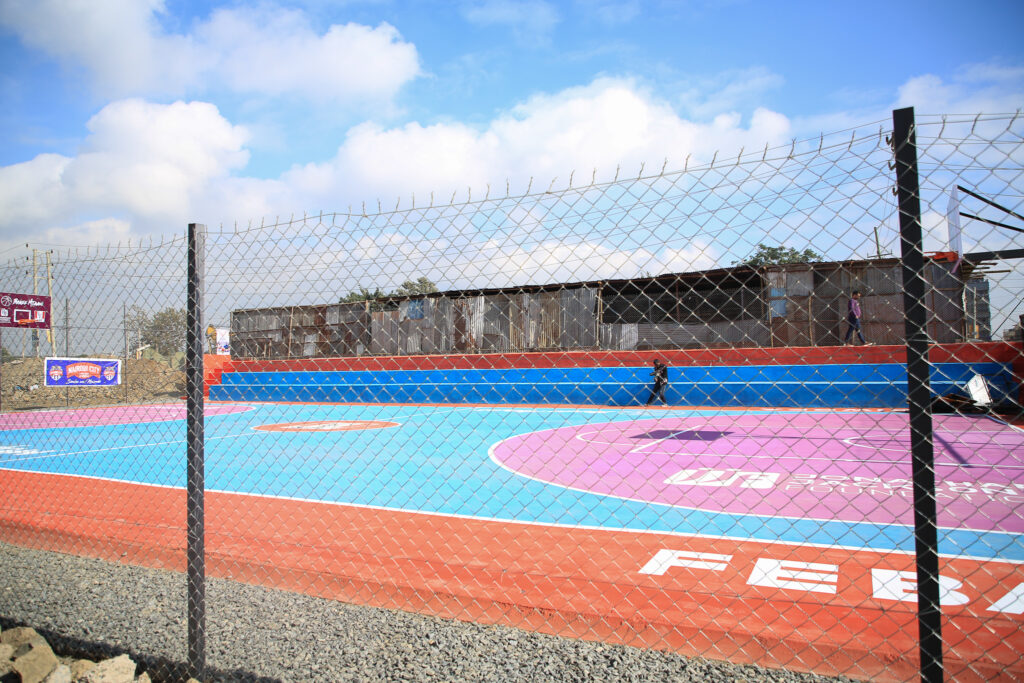 Acting Director Research and Innovation Kenya Academy of Sports John Okwemba, on behalf of the CEO Dr. Doreen Odhiambo said;

"We are committed in enhancing the participation of young people in Basketball. Among the five curricular we are developing; basketball is one of them. We will work with the Federation to ensure that young people expose their talents,"

"With this venture, we are going to work together to ensure that we help our young people develop their talent. We will be working together to advance the game of basketball in this country."
The local area Chief, Madam Salome Muthomi also remarked that;

"Over 50 skilled and unskilled youth laborer and artisans have directly benefited in the construction phase of this noble community initiative thereby helping them to earn an income and add on their technical skills and competence. Additionally, the local youths in the area have also seen the opportunity of starting food and drinks vending businesses around the courts hence contributing to curbing youth unemployment in the Komarock Community,"

The same sentiments were echoed by Mr John Mwangi, Chairman of Humama Grounds.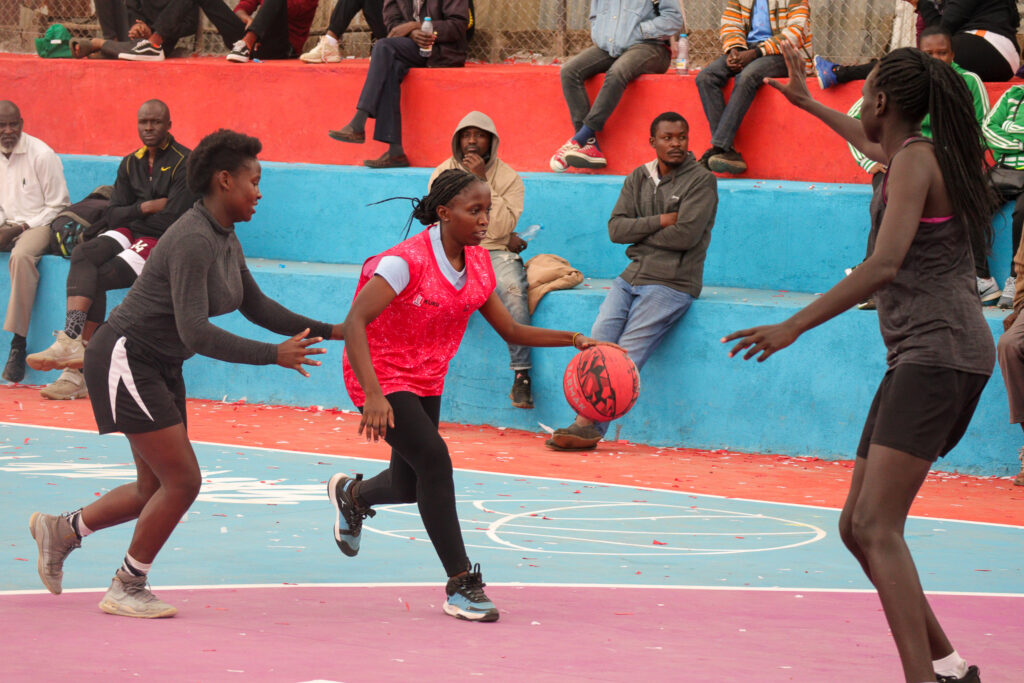 About 'Bakee Mtaani' (basketball in the hood)
It's a revolutionary community sports initiative that has introduced basketball courts as safe spaces within Nairobi's informal settlements and communities.
The project includes the identification and construction of basketball courts, sourcing of equipment, implementing training for coaches and referees to oversee basketball tournaments and comprehensive training programs for the youths to learn the sport and ensure high levels of participation.
The latest Basketball court launch in Komarock was the first funded by KFC, in partnership with JJF who oversaw the construction
The latest court at Umama adds to three operational ones at Gatina Primary School, HGM Primary School and Riruta Stadium – all in Dagoretti North Constituency in Nairobi County.
About KFC
Kuku Foods is the official franchisee of KFC in East Africa. With 44 restaurants across East Africa and 31 restaurants in Kenya.
KFC, a subsidiary of Yum! Brands, Inc. (NYSE: YUM.), is a global chicken restaurant brand with a rich, decades-long history of success and innovation. It all started with one cook, Colonel Harland Sanders, who created a finger-lickin' good recipe more than 75 years ago, a list of secret herbs and spices scratched out on the back of the door to his kitchen. Today we still follow his formula for success, with real cooks breading and freshly preparing our delicious chicken by hand in more than 25,000 restaurants in over 145 countries and territories around the world.