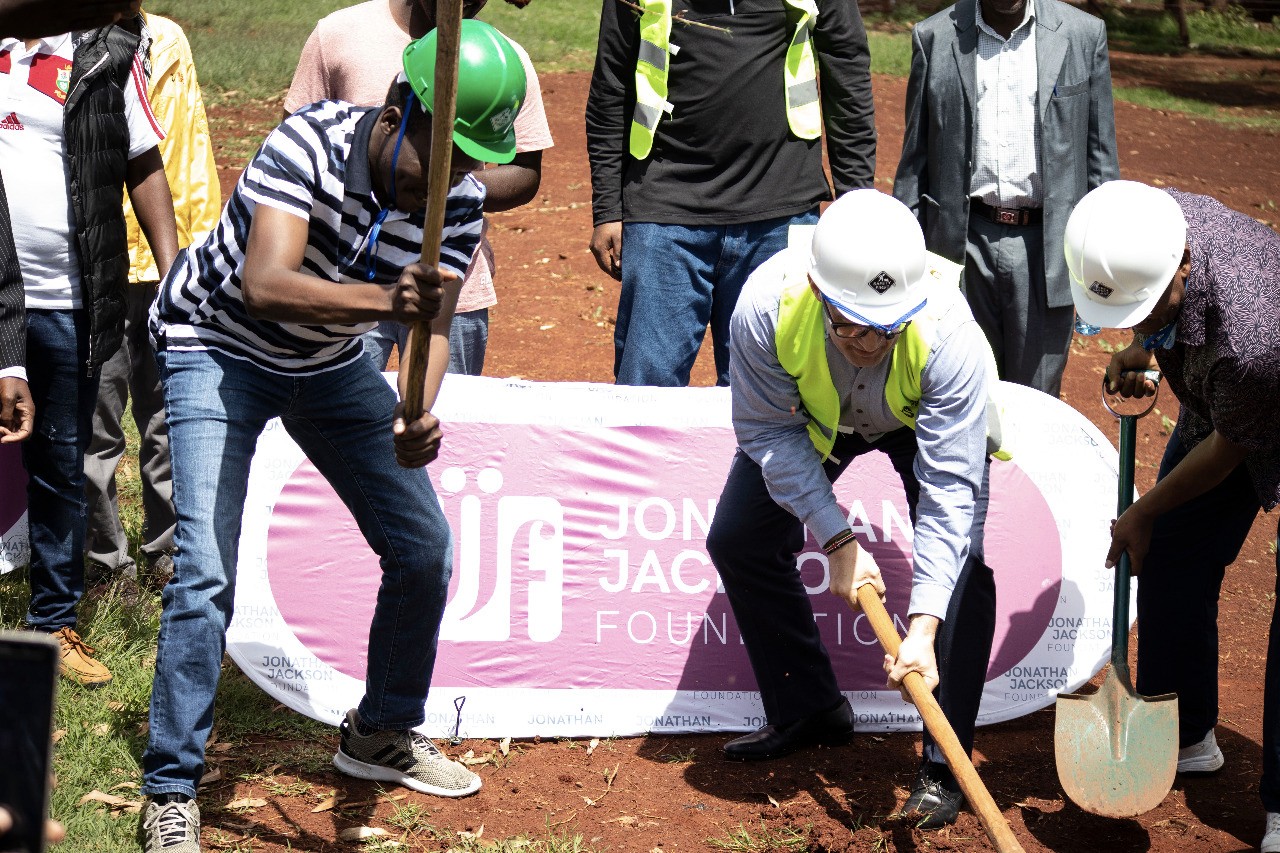 JJF's 'Bakee Mtaani' project breaks ground for the first Basketball court construction of 2021 in Kawangware
The Jonathan Jackson Foundation (JJF) is a non-governmental organization that acts as a custodian of community change through a transformative agenda, focusing on leveraging the networks in the community to empower the vulnerable and underserved populations economically and socially.
JJF held the first groundbreaking ceremony of the 'Bakee Mtaani' project of 2021 on Friday 16 July 2021 at Holy Ghost Mission (HGM) Primary School in Riruta, Kawangware, from 9:30 AM to 10.30 AM.
'Bakee Mtaani' (basketball in the hood) is a revolutionary initiative that seeks to introduce basketball courts as safe spaces within Nairobi's informal settlements and communities. The project will include identification and construction of basketball courts, sourcing of equipment, implementing training for coaches and referees to oversee basketball tournaments and comprehensive training programs for the youths to learn the sport and ensure high levels of participation.
The court will provide a safe space for the youth to showcase their talents and to interact, keeping them preoccupied and hence reducing the chances of them engaging in social vices such as crime, prostitution and drug and substance abuse. Exposure to professional basketball players, life skills, camaraderie and fellowship among the youth, as well as basketball scholarships to promote basketball pro-level playing as a career, are all part of the project's long-term agenda.
The ceremony focused on breaking ground for the construction of a full-size FIBA-type basketball court built to international standards for professional tournaments. JJF intends to construct 12 courts this year.
I am greatly optimistic of the impact that a major-league basketball court will bring to the youth of this area – lives will indeed be transformed.

Jonathan Jackson, Chairman of JJF
The chief guest, Sports Kenya Director General Mr. Pius Metto attended the event on behalf of the Ministry for Sports, Heritage and Culture. He remarked "One of the main causes delaying accelerated development of sports in general, and basketball in particular, is shortage of related facilities. The thought by JJF to construct and improve basketball courts to facilitate engagement in alternative sporting activities by the informal communities is laudable and unparalleled. The Ministry of Sports Culture and Heritage is elated to be associated with this cause."
Also in attendance was Everlyne Kedogo, Vice-chair of the Nairobi Basketball Association (NBA). As a basketball coach herself, she shared, "Basketball gives you an edge in the workplace too – it taught me to think and in a split-second when necessary, and has led to my success thus far. I urge the youth, particularly children, to embrace basketball and the opportunities that will follow."